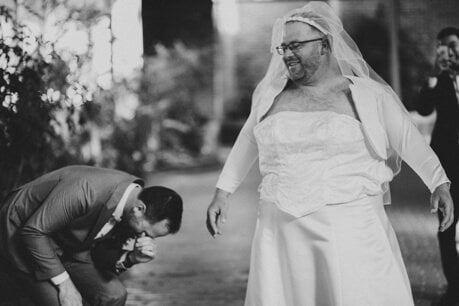 We want you to live to the fullest,
embrace with all your
might,

cry and be thrilled with all your heart, laugh until your belly hurts, feel, just feel!
We don't want anything posed,
we

just

want you to be yourself and not to worry about what people may think.
We're Monique and Erik, two pulsating hearts, who love real people with real love.
Our images are frames of real life. Our mind produces and reproduces a movie format and we love to experience . Each story is a unique story, so our movies are never the same. We seek creativity and love authentic couples and if that's what you are looking for, we are the ones for you. 
services
we are the ones for you. 
About US
We're Monique and Erik.
Testimony
What they say about us
"Erik and Monique were fantastic photographers at my wedding!! They captured our day perfectly and we are so glad we had them. They met with us twice leading up to the big day, scoping the venue and ensuring they knew exactly what we wanted for wedding photos. The final album of photos were shared with us quickly (approximately 1.5 months after the wedding) and looked amazing! So many great candid shots to capture our multicultural wedding. We struggled to choose one photo for our thank you cards, because honestly they all looked so amazing. Thank you for the flexibility and creative artwork you produced for our wedding. Highly recommended. "

"We saw a recommendation on Facebook and we loved the photos and made an appointment with Brame Cine. We met Erik and he gave us some great ideas for our wedding shots and even suggested a "First Look" shoot, which we loved! After we met Monique and then both of them made us feel comfortable and excited for our wedding day. The results of our photos and video were amazing! They captured all the special and lovely moments. We feel thankful for Brame Cine to make our big day so memorable and we LOVED the beautiful momento box we received with some photo prints so that we could share with our families. Thank you for also including a portable memory drive so that we could send photos for our family and friends who couldn't come for our wedding and for our future family. "

"Erik and Monique are a fantastic duo who did a great job capturing our wedding in August. They are friendly and a bunch of fun and make you feel comfortable during the photoshoots. They are professional and you can sense their passion. The pictures turned out nicely. Very happy with them from start to finish. I would recommend them!"

"I would like to thank Erik and Monique from Brame for wonderfully capturing the most important days of our lives. They were very nice and professional since the first contact. Erik showed us Brame's portfolio and provided a lot of insights for the wedding day, from our outfits to the locations we could visit for the photoshoot. During the wedding day, they were very fun and pleasant, which was excellent, for me and my wife were very nervous before the ceremony. The photos came out perfect. Their post production style is incredible, and the photoshoot looked like it came out of a movie "making of". We could not be happier and more satisfied with the work, and we are very thankful for the dedication and work ethics of Brame's team. Thank you so much, guys!"

"Erik and Monique were amazing. The photos and video they produced for our wedding this June were breathtaking. You can tell immediately that they have a lot of experience and are both gifted artistically. They are very friendly and very fun to work with, they know exactly what shots to get and when. Out of so many photography and videography styles, they are really the best. You can feel the emotion in their work. If I have needs for photos and video in the future they will be the first people I call.  I would 100% recommend Erik and Monique of Brame Cine to all my family, friends and anyone reading this."

"Hi everyone,  Around this time last year we started looking for a wedding videographer. It's quite anxiety provoking and tedious work to find someone that can facilitate that first cinematic debut you've been looking for. We stumbled upon them through Facebook and discovered that we found the perfect people to shoot our pre-wedding documentary and wedding video. They delivered above and beyond our expectations. I cannot recommend these extremely talented people enough. Their artistic talent, fun personality and willingness to go the extra mile will always stay with us. They were so understanding with us after a tragedy I faced with my dad passing away and they made our highlight even more special by commemorating him. I'm not kidding when I say this, both my husband and I bawled while watching our videos because they captured all of our important moments and made us look like superstars. If you're stuck on who to choose, look no further because they're truly something special!"
newsletter
Love stories are our fuel.
Creativity is what moves us!